product introduction
Paper paper (also referred to as rock paper, lime paper or mineral paper) is a new generation of paper that has been invented by researchers in recent years. The primary material of this paper is calcium carbonate powder, which replaces the use of wood for the production of paper. Its properties are waterproof, tear resistance, magic effect of colors on it and finally its reversibility to the soil during short recycle period.
Many "stonepaper", or the same paper and mining paper, are an amazing phenomenon in the printing and manufacturing industry and it is also the beginning of a new era in the production of environmentally friendly paper, because its primary material is only rock, so it does not seem to be no longer Worried about cutting the trees and its destructive effects on the environment. Also, in the process of producing "paper" not only water is not used, but because of the whiteness of the raw materials, there is no need to use bleaching agents in its production, so that the result will be that other pollutants will not be added to our environment.
The production of carbonate paper is not new, and carbonate is used to produce many other materials, such as automatic and even tissue paper, but paper manufacturing, which is 85% carbonated and capable of offset printing, is an innovation.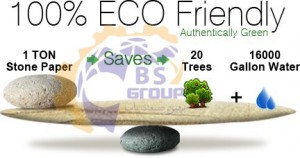 Manufacture of paper from stones
Introducing product applications
Paper paper is used in various grammages from 50 microns to 400 microns for various applications and is used to produce adhesive labels with different grammes and high adhesion coefficient and waterproof properties. Paper applications are not limited to the printing industry, publishing, packaging and advertising, and in terms of printing and binding machines, the behavior is similar to glossy paper and there is no need for composite or zinc.
Thin grammar of this type of paper for applications such as food packaging, medium greetings for print jobs such as exquisite books, drawings with various applications, handles, magazines, brochures and envelopes, and thick grammars, for use in day-to-day applications of cardboard packaging It is used, such as boxes and credit cards, suitable. Because of its resistance to poisoning from rodents and mammals, this paper is used to provide works of art such as paintings, books and exquisite materials or documents that are supposed to last for many years, such as a home document, car or bonds of participation , Can be used.
In general, the product is widely used in print and advertising. Another important paper use of stone in the field of cement packaging is another. For the production of packaging bags, cement is used from five layers of paper coated on it with a layer of polyethylene. The polyethylene layer is used to prevent the cement from penetrating, but does not need to be coated in the manufacture of paper such as polyethylene.